Connecting to the Lionbridge TMS™
You log into the Lionbridge TMS™ with a web browser by opening the web address tms.lionbridge.com.
Users working in Lionbridge tenancy
Being logged in directly (Internet Explorer and Chrome)
Lionbridge users logging in from within Lionbridge network with Internet Explorer or Chrome browser are directly logged in with their Windows account without any prompting.
Logging in by using a login screen
Lionbridge users logging in
from within the Lionbridge network with Firefox, or
from outside the Lionbridge network with any browser,
are presented with the login screen (below). They need to provide either Lionbridge email or credentials with the corpnet\ domain prefix.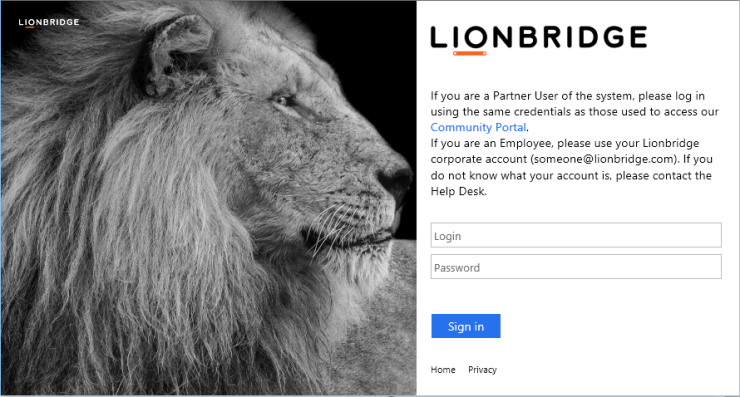 TMS™ Home tab
Signing in opens the user's dedicated TMS™ Home tab and the Projects view matrix, in which you can see information and links to your different items in the Lionbridge TMS™ including:
New tasks assigned count
Tasks In Work count
New jobs submitted count
Alerts count (if any system error has occurred)
Your profile (see the upper right corner)
RSS feed for messages
Projects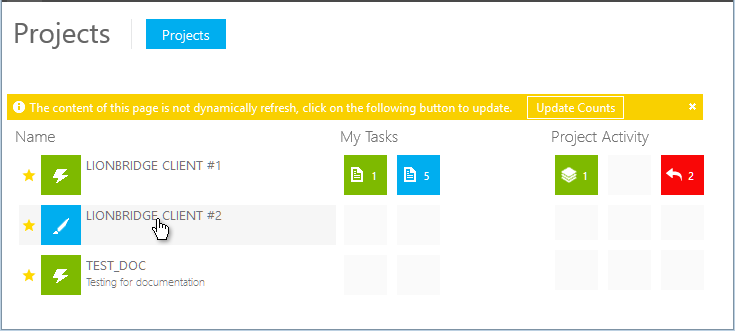 If you do not yet have a profile in the TMS, the My Profile dialog opens automatically for you to set your profile settings. The details on setting your profile can be found in the User Profile section of the Working with the Home Tab topic.
 Information
 

Field / Value

Additional Information

 

Name: Username

This field displays your username.

 

Email: user.name@lionbridge.com

This field displays your email address.

 

TW Tenancy:

 

 
Lionbridge
In this field you need to insert the name of your tenancy.
 

Time Zone:

 

 
(GMT) Greenwich Mean Time: Dublin, Edinburgh, Lisbon, London
In this field menu you can select the correct time zone for your location.
 

Number if items per page:

 

 
25
In this field menu you can select how many items TMS displays per page.
 

 Save  

 Notification
 

Field / Value

Additional Information
 

Email notifications:

Click the button to set notifications On or Off.

 

Excluded projects:

 

 
Find projects...
In this field menu you can select the projects you do not want notifications for.
 

Mobile push notifications:

Click this button to set notifications On or Off.

 

Excluded projects:

 

 
Find projects...
In this field menu you can select the projects you do not want mobile push notifications for.
 

 

 

 

 Save